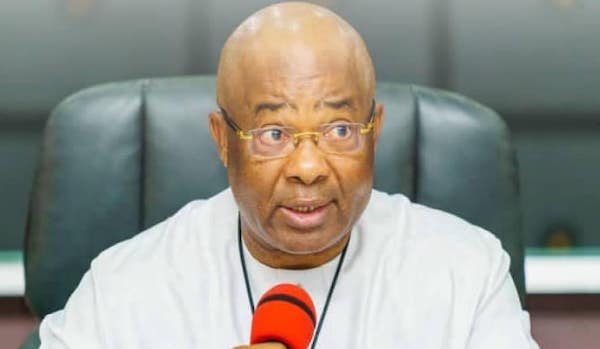 The Imo State chapter of the Christian Association of Nigeria has urged the political class to stop fuelling crisis in the state.
At a press conference in Owerri, the state capital, the CAN chairman in the state, Rev. Divine Eches, said that the spate of attacks and killings in the state was affecting the well-being of the people.
The CAN leader who condemned the burning of the country home of the state governor, Hope Uzodinma, regretted that the state was fast becoming the "headquarters of crisis, oddity, and insurgency in Nigeria".
Divine said, "The Christian Association of Nigeria, Imo state chapter condemns these actions in their entirety. We condemn them in the very strongest terms and demand a stop.
"Our dear state has been in the news for the wrong reasons and this does not mean well for us as a people. If not checked, our state is fast becoming the headquarters of oddity and strange happenings and I appeal for a ceasefire.
"For a state like Imo, where almost everyone is a member of the church, there is a need for caution because like the saying goes, the danger of creating a monster is that one day it will turn against its master.
"The Christian Association of Nigeria, Imo State chapter calls for an end to insurgency, we say no to banditry, no to hooliganism, no to every form of lawlessness, we are not known for such.
"I call on the political class to stop fuelling crisis while they keep their family members outside the country. While the church is not taking sides, we call on all the gladiators to sheath their swords and give peace a chance.
"The sudden bloodshed will do us no good because the victims are our brothers and sisters. Let us live in love and harmony because like the proverbial saying one should not throw stones into the market because it may just hit your mother, sister, and or wife."