Emmanuel Manulu, a Nollywood filmmaker has served the National Film and Video Censors Board (NFVCB) a pre-action notice following the board's refusal to censor his films.
According to legal documents acquired by Pulse, Manulu claims the board denied his two films, 'Devious Fate' and 'Don't Leave Me' preview and censorship because he did not belong to an association.
An excerpt from the document reads: "consequently, we undertook a study of the National Film and Video Censors Board Act Cap N40, laws of the Federation of Nigeria 2004 with its amendment in year 2016 but could not find find membership , or forced membership of "an association" as a preview or censorship criterion. We also could not find canvassing for membership of "an association", undisclosed as it is , as a statutory function of your Board".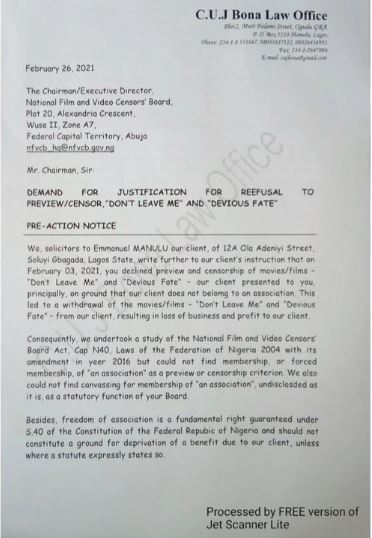 In addition to claims of an unlawful refusal to censor the films, the document reveals that the filmmaker is demanding a justification for the Board's demand for an addition N5000 for censorship fee as opposed to the statutory N25, 200 charge.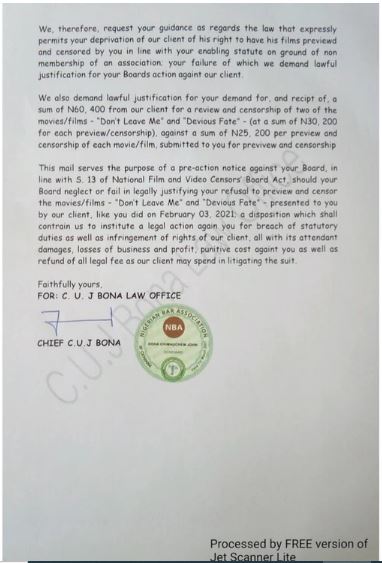 Manulu told Pulse that his woes with the Censors Board began in February when he submitted two films for censorship. He alleged that he was asked to pay an addition N5000 to aid the board with internet service subscription to download the films.
The Board later wrote to him intimating him of the new policy stating that a film's producer and director must be members of a registered guild before their films can be censored.
Manulu further revealed to Pulse that neither he nor his colleagues got a notice of the boards new policy which NFVCB executive director Alhaji Adebayo Thomas announced in a meeting with Nollywood guild leaders on March 17, 2021.
Thomas had stated in the meeting, that actors and filmmakers must compulsorily belong to any of the 13 recognized professional bodies. While it is unclear if the ED revealed that the penalty would be a refusal to censor, Manulu disclosed that his films were rejected nearly two weeks before the meeting.
The filmmaker is now claiming loss of profit and an infringement of his fundamental human right to freedom of association.
Pulse reached out to the executive director of the NFVCB for comments but did not get a response.
Source: Pulse Nigeria