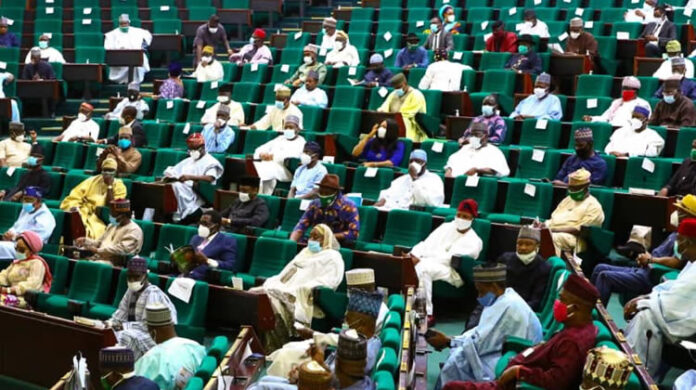 THE House of Representatives' Ad Hoc Committee on the Need to Review the Purchase, Use and Control of Arms, Ammunition and Related Hardware by Military, Paramilitary and Other Law Enforcement Agencies in Nigeria on Monday summoned the Chief of Army Staff, Lt.-Gen. Ibrahim Attahiru, and Governor of the Central Bank of Nigeria, Godwin Emefiele.
They are to appear before the committee on April 2021.
The committee, at its investigative hearing, expressed its displeasure with the non-appearance by heads of Federal Government ministries, departments and agencies as well as military and paramilitary agencies billed to appear before it.
Those who were expected to appear before the lawmakers were the Ministries of Finance, Budget and National Planning; of Defence; of Interior; Central Bank of Nigeria, Bureau of Public Procurement; and the Chief of Army Staff, Lt.-Gen. Ibrahim Attahiru.
Penultimate Friday, the National Security Adviser, Major General Babagana Monguno (retd.), had alleged that $1bn funds meant to purchase arms to tackle insurgency during the ex-service chiefs' tenure got missing.
According to him, the President, Major General Muhmmadu Buhari (retd.), will soon order a probe into the matter.
However, in a statement by his office later, Monguno recanted his earlier allegations, saying he was quoted out of context.
The committee, however, resolved to investigate the matter.
On Monday, Chairman of the committee, Olaide Akinremi, lamented that members of the panel had waited for the invitees for three hours.
"Today, we are expecting the CBN, Ministry of Finance, Chief of Army Staff, Bureau of Public Procurement, Ministry of Defence and Ministry of Interior," he noted.
Akinremi announced that the Defence Ministry had written to the committee to seek "extension of time," which was granted.
He noted that the invitation was in line with the provisions of Section 88 of the Constitution.
Several members of the committee criticised the CBN particularly, accusing the apex bank of serially shunning summons by the National Assembly.
Efforts by the chairman to prevent members of the committee from issuing summons to Emefiele and Attahiru proved abortive.
A motion to summon the CBN governor and the COAS was unanimously adopted.
A member of the committee, Bede Eke, who spoke with journalists, condemned the CBN and the COAS for shunning the invitation in the wake of the security crisis across the country.
Eke said, "It is also important for it to be on record that we wrote to CBN five times, Chief of Army Staff, inviting them to appear before this special ad hoc committee. The ad hoc committee is set up to look into purchase and control of arms.
"The CBN governor should be careful. The Act of National Assembly created CBN. You can't be bigger than the law. If there is anything you are hiding, this ad hoc committee set up by the House will not allow it. So, we have summoned them. As you heard, by the 7th of April, at 2pm; if they don't come, then we take another step further."