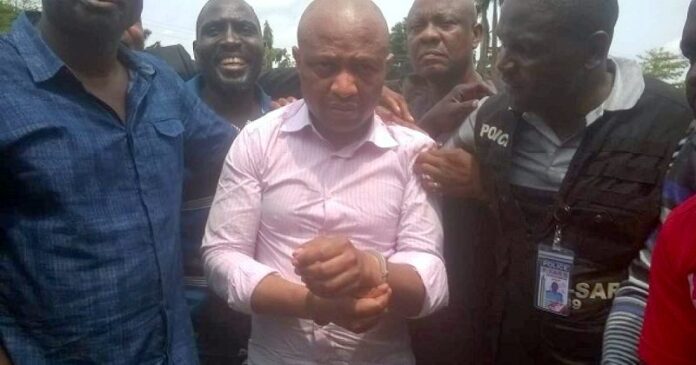 Justice Hakeem Oshodi of the Special Offences Court, Ikeja, Lagos, has adjourned the trial of Chukwudumeme Onwuamadike, popularly known as Evans, till July 9, 2021, for the continuation of defence.
Evans, along with his co-defendants, Uche Amadi, Okwuchukwu Nwachukwu, Ogechi Uchechukwu, Chilaka Ifeanyi and Victor Aduba, had previously been arraigned before Justice Oshodi on August 31, 2017, on a two-count charge of conspiracy and kidnapping. The gang was alleged to have kidnapped Donatus Dunu, the Managing Director of Maydon Pharmaceuticals Ltd.
According to the prosecution, Dunu was kidnapped on Ilupeju Road, Lagos State, on February 14, 2017 and the defendants allegedly collected €223,000 as ransom from Dunu's family.
However, while testifying in his defence on January 22, 2021, Evans denied being a kidnapper. Led in evidence by lead defence counsel, Victor Okpara, Evans denied all allegations of kidnapping levelled against him by the Lagos State Government, insisting that he was a legitimate businessman.
He said his nickname was not Evans and that he was coerced into admitting being a kidnapper after the police, in a bid to make him confess, killed four individuals in his presence.
"I live at Fred Shoboyede Street, Magodo Phase II, Lagos. I am a businessman and I deal in ornaments and Horlicks. My lord, my name is not Evans and I don't have a nickname," he said.
He explained that prior to being apprehended by the authorities, he had never met his five co-defendants.
Meanwhile, the absence of a witness who was to testify in Evans' defence has stalled his trial before the Ikeja High Court, Lagos.
Evans' counsel, Oyekunle Falabi, had informed the court that the witness, whose name was not provided, could no longer be reached via phone. Counsel to Evans' five co-defendants also agreed with Falabi's request for adjournment and Justice Oshodi adjourned the case until July 29 for the continuation of defence.
On the day slated for continuation of the trial, one of the co-defendants and wife of an alleged kidnapper, Ogechi Uchechukwu, who was arrested alongside Evans, told the court that her husband, Uche Amadi, lied about his involvement with the alleged kidnap kingpin.
The couple, Amadi and Ogechi, are being accused of providing a detention camp at No. 21, Prophet Ashaye Close, New Igando, Lagos, to hide victims allegedly kidnapped by Evans and Amadi was reportedly identified as the leader of Detention Gang, one of the two groups coordinated by Evans.
She said her husband lied in his ev
idence before the court that he only visited Lagos for the first time after he was arrested by the police on May 24, 2017.
While testifying in her defence, Ogechi said, "I own a shop and I sell provisions in Port Harcourt. I was in Port Harcourt when I was arrested by the police but I visited Lagos with my son in August 2016 during the long school vacation.
"My husband invited me to Lagos in August and I spent two weeks there before I returned to Port Harcourt. On May 24, 2017, a Hilux van, filled with policemen, packed in front of my shop. The police officers marched into the shop, saw my husband and arrested him.
"So, anyone saying that Amadi had never been to Lagos before 2017 when he was arrested must be lying."
This testimony by Ogechi came shortly after her husband testified that he had never visited Lagos prior to his arrest.
Amadi, in his defence, told the court that he was arrested alongside his wife in Port Harcourt and that he did not have any relationship with Evans.
The prosecutor asked, "You were in court when the victim, Donatus Dunu, said that where he was kept, he heard the voices of a woman and her child?"
Ogechi replied in the affirmative, adding that she stayed in a three-bedroomed bungalow apartment when she visited her husband in Lagos.
Afterwards, Justice Oshodi adjourned the matter till July 9, 2021, for the continuation of defence.
Copyright PUNCH.