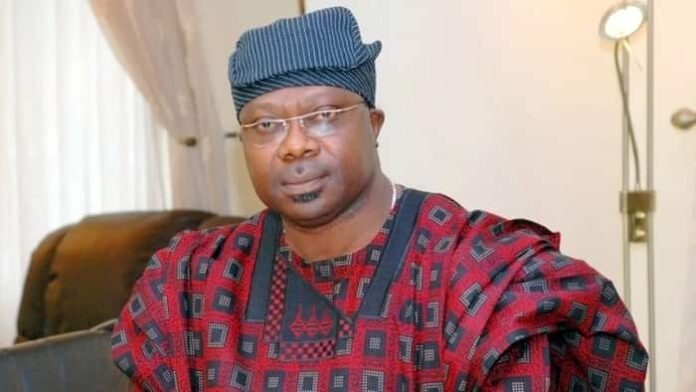 Thirteen months after joining the All Progressives Congress officially, Iyiola Omisore was elected as the National Secretary of the party.
He was elected (by consensus) at the 2022 national convention of the party alongside 76 others.
Checks by The PUNCH showed that Omisore was arraigned in 2002 for the murder of former Attorney General of the Federation, Bola Ige. He was later acquitted alongside 10 others that were tried.
In 2016, Omisore was arrested by the Economic and Financial Crime Commission for N1.3 billion he allegedly received from the Office of the National Security Adviser.
Here are 10 things to know about Omisore
1 – Senator Iyiola Omisore attended St. John's Grammar School, Ile – Ife between 1972 – 1976. He attended the Ondo State Polytechnic, Owo, Ondo State, 1976 – 1980 and proceeded to Full Technology College, Reading at the United Kingdom where he obtained a Diploma Certificate in Electrical/Electronics Engineering in 1983.
2 – Omisore bagged his Bachelor of Engineering Degree in FTC Power and Machines, from Brunnel University, Uxbridge. He later did his Postgraduate Certificate in Building Service and Engineering Management and Masters of Science Degree in Building Service respectively from Brunnel University Uxbridge, United Kingdom.
3 – He also obtained a Doctor of Philosophy (Ph.D) in Infrastructure Finance & Public-Private Partnership from the International School of Management, Paris, France.
3- He emerged as the Deputy Governor of Osun State in 1999.
4 – Omisore was re-elected as a Senator in 2007. He was Chairman/Member of committees: Industries, Culture and Tourism, Federal Character and Inter-governmental Affairs, Navy , Communications, Appropriations and UND/PINASS Support Implementation Committee.
5- He is a Fellow of Chartered Institute of Building Service Engineers, Association of Cost Engineers, Nigeria Institute of Mechanical Engineers and Nigerian Society of Engineers.
6 – Omisore was among various people arrested and tried for involvement in the murder of Bola Ige, who was shot dead on 23 December 2001, at his home in Ibadan. Omisore and others were all acquitted.
In 2016, Omisore was arrested by the Economic and Financial Crimes Commission for allegedly collecting N1.3billion from that then former National Security Adviser, Sambo Dasuki. He was later released by the EFCC .
8 – Omisore had moved from one political party in his bid to govern Osun State. From Alliance for Democracy to the Peoples Democratic Party to the Social Democratic Party (SDP) and now All Progressives Congress.
9 -He is believed to have assisted Gboyega Oyetola in becoming Osun State Governor. This was after the Independent National Electoral Commission declared the September 22, 2018 governorship election inconclusive on the ground that the 353 votes margin between Ademola Adeleke and Oyetola was lower than the number of cancelled votes (3,498) in seven polling units, which fell in Omisore's stronghold.
In the race, Ademola Adeleke of the Peoples Democratic Party was leading with 254,698 votes ahead of Oyetola who polled 254,345 votes. Omisore came a distant third with 128,049 votes. Omisore immediately became the beautiful bride to be courted by his two leading rivals.
Delegations from both the APC and PDP met with Omisore after the first ballot of the 2018 poll but he eventually threw his support behind APC, saying the ruling party had accepted the conditions he gave them.
10 – Omisore officially defected from the SDP to the APC in February 2021. He was welcomed into the party by Osun Deputy Governor, Benedict Alabi, and the state chairman of the party, Famodun.
Copyright PUNCH.